26 July 2023 Post Number 585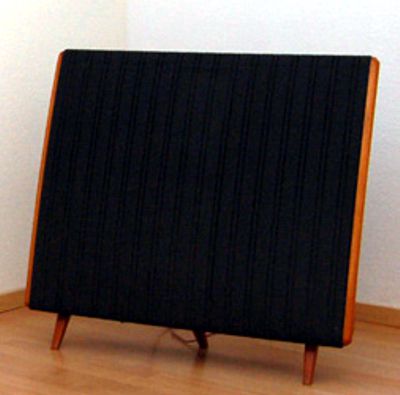 Quad Envy
The Quad model 57 is a loudspeaker classic, which still competes with modern high-end speakers. This electrostatic loudspeaker was a two-way design with two low-frequency panels flanking a center high-frequency panel; D'Appolito before D'Appolito. The crossover frequency was a wonderfully low 500Hz 1st-order type. As I heard the story, this electrostatic speaker was the inspiration for the famous Dahlquist DQ 10. Like the Quad model 57, the DQ10 still has its admirers and supporters.
Well I, too, long to build a Quad 57 flavored and inspired loudspeaker, but using dynamic drivers, like the DQ10. Unlike the DQ10, however, which held many drivers and many crossover frequencies, I want to stick to the Quad's single 1st-order 500Hz crossover. Imagine two low-frequency woofers flanking a fullrange driver.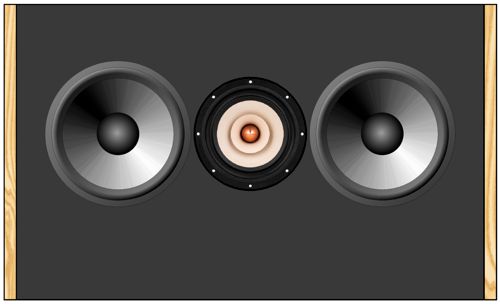 The fullrange operates as a dipole, while the two woofers get sealed enclosures that raise the cabinet resonances up to the fullrange driver's free-air resonance, say around 50Hz. The problem that arises is that an 8-ohm fullrange needs to mate with two either 16-ohm or 4-ohm woofers, so as to make a final 8-ohm loudspeaker load impedance. Well, 16-ohm woofers are rare, while 4-ohm woofers are common; thus, we choose 4-ohm woofers.
A wrinkle develops, however, as 4-ohm driver SPL ratings comes in two forms: SPL at 1W of power at 1 meter versus SPL at 2.8Vrms at 1 meter. The second method results in 2W of power delivery, which further results in a +3dB increase in SPL compared to the 1W method of testing. Assuming that the SPL at 2.8Vrms at 1 meter rating was used (it seems the more popular), what will be the final SPL with the two 4-ohm woofers placed in series?
In series, the load impedance rises to 8 ohms, and both woofers see half the 2.8Vrms signal, so their SPL drops -6dB. For example, two 88dB 4-ohm woofers would each put out 82dB. But as we have doubled the radiating surface area, we gain +6dB. In other words, we return to the original SPL rating of 88dB. A giant step sideways. This is worth remembering, as many excellent 4-ohm woofers and midranges are made.
If the SPL at 1W (2Vrms) at 1 meter rating was used, we can expect a 3dB boost, as these woofers would have yielded a 3dB higher SPL under the other 2.8Vrms testing. Using the 88dB SPL spec, the two woofers would deliver 91dB.
What if we insist on using two 8-ohm woofers? We could exploit the output transformers on our tube-based power amplifiers. Here is how: we wire the 8-ohm drivers in parallel, making a 4-ohm load, which halves the required inductor inductance needed for the same 500Hz crossover frequency; next, we bi-wire the loudspeaker so the woofers and their singe inductor attach to the 4-ohm transformer output taps.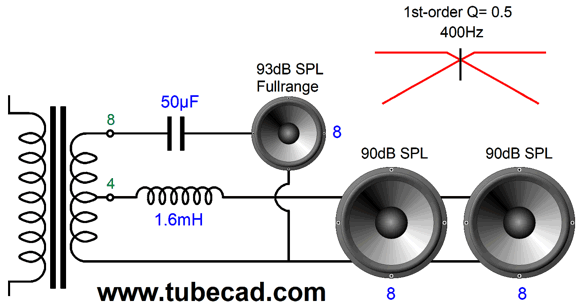 (I made this image back in 2017, which explains the 400Hz crossover frequency.)
The tube-based power amplifier is happy, and we got away with a smaller inductor and 8-ohm woofers. How does the SPL work out for the two woofers? Each woofer sees 70.7% as much signal as the fullrange, so each woofer will deliver 3dB less SPL, but since we gain 6dB due to the doubled surface area, the net SPL will be 3dB higher than their rated SPL. For example, 91dB woofers will deliver 94dB.
What if we are using a solid-state power amplifier and two 8-ohm woofers? Assuming the two drivers are in parallel, making a 4-ohm load, their combined output will be 6dB higher. For example, 88dB woofers combined will deliver 94dB of SPL. Of course, the solid-state amplifier will have to work into a 4-ohm load at low frequencies, which might make it run too hot. If we placed the two 8-ohm drivers in series, each driver will suffer a -6dB reduction in SPL, but gain 6dB due to twice the radiating surface, so no change in SPL. In addition, the power rating will effectively double with the woofers in series, so two 50W woofers can handle 100W of amplifier output.
As I pondered all this, some of my power-boosting circuits for use with flea-powered amplifiers came to mind. Post 261 and Post 552 show many examples of using an internal power amplifier in a loudspeaker to augment the small external power amplifier's output. Here is an example from post 552: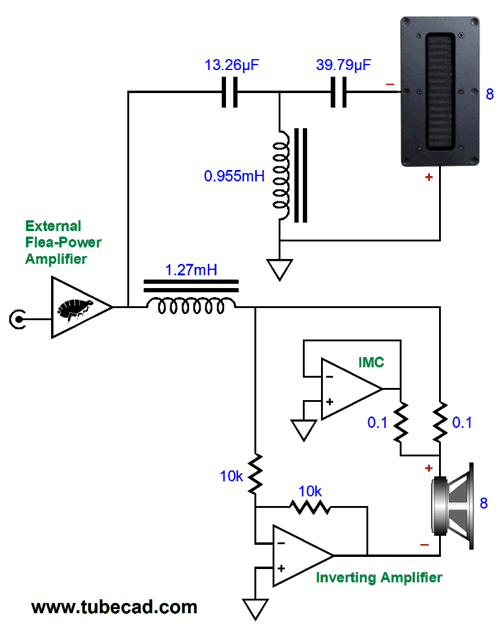 The flea-power amplifier drives the tweeter through the 3rd-order passive filter. It also half drives the woofer through the impedance-multiplier circuit (IMC), which along with the bottom amplifier effectively makes the flea-power amplifier's power output four times larger.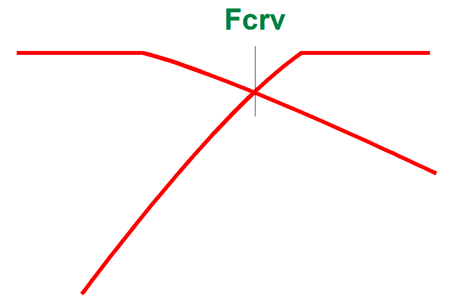 This is an asymmetrical crossover, as the tweeter sees a 3rd-order high-pass filter, while the woofer sees a 1st-order low-pass filter. Note that no inductor was used in the woofer's circuit. (Inductors are a pain, as they are both large and expensive. Moreover, they can act as hum magnets and always present some DCR. In addition, if they are not air-core, they can saturate, adding much distortion.)
Without the IMC, the 8-ohm woofer would present a 4-ohm-load impedance to the flea-power amplifier. On the other hand, if we used a 16-ohm woofer and no IMC, the external power amplifier would work into an 8-ohm load. Okay, let's look at a 1st-order two-way crossover with a matching internal power amplifier.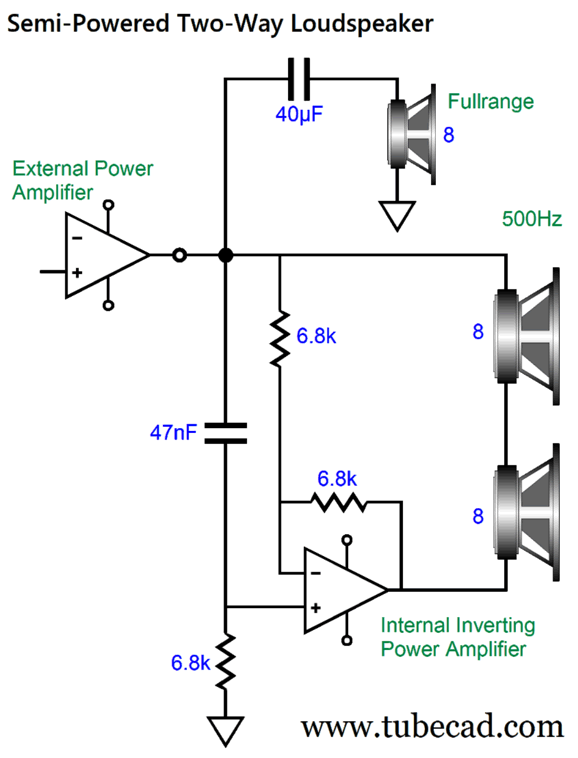 The way this 1st-order 500Hz two-way crossover works is that, at high frequencies, the inverting amplifier (within the speaker enclosure) ceases to be an inverting amplifier, becoming instead a unity-gain non-inverting amplifier. With high frequencies coming from the external power amplifier, the woofer sees the exact same signal at both its terminals, both in amplitude and in phase. No difference, no sound.

At low frequencies, in contrast, the internal power amplifier inverts the external amplifier's output signal. Since a loudspeaker driver is an intrinsically differential device, the woofer only responds to low frequencies, as that is only time when it sees as a differential signal across its terminals.

The 47nF capacitor and 6.8k resistor in series set the 500Hz crossover frequency. The formula is easy enough:

C = 159155/F/R

Where C is in µF and F is the crossover frequency.

As far as the external power amplifier is concerned, it is connected to an 8-ohm woofer that is in series with a loss-less inductor. Yes, the internal power amplifier mimics an inductor. Think about it: the higher the frequency above the crossover frequency, the less current the external amplifier delivers into the woofers, just as an inductor would bring about.

This setup yields both a flat phase and impedance output, along with the required flat frequency response. Well, as flat as the drivers allow. One way of thinking about this arrangement is that the internal power amplifier matches the power delivered by the external power amplifier into the woofer, making this a semi-powered loudspeaker design. What will be the resulting two-woofer SPL? Since we doubled the woofer radiating surface, we gain 6dB in SPL, so two 88dB woofers will produce 94dB of SPL at one meter with 2.828Vrms signal from the external power amplifier.

As it is altogether impossible for me to leave any circuit alone, I wondered if I couldn't force a steeper (higher-order) filter slope on the fullrange driverand still retain a phase-flat output. It turns out that I could.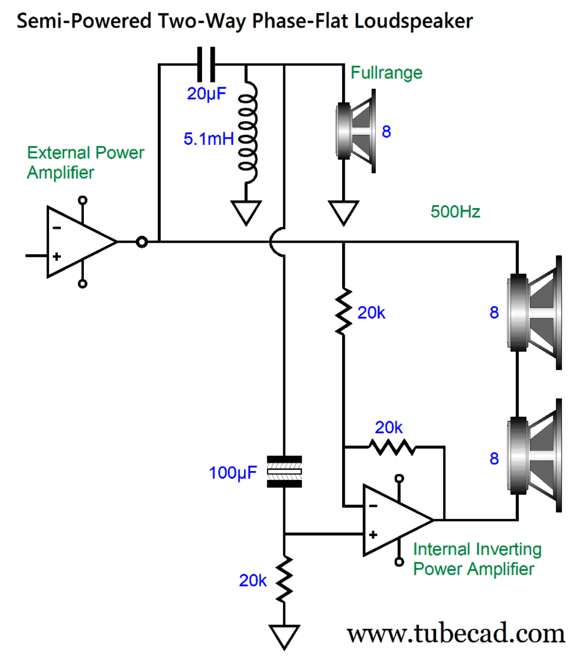 The fullrange sees a passive 2nd-order high-pass filter with a Q of 0.5 (i.e. Linkwitz-Riley), so its output will be down -6dB at 500Hz and fall off a -12dB per octave, 40dB per decade. In contrast, the woofers see a bumpy 1st-order low-pass filter. Combined, the three drivers deliver a flat frequency plotline, as shown in the SPICE-generated graph. The 100µF non-polarized electrolytic capacitor may appear crazy too large in value, but it must be large to avoid phase shift at low frequencies.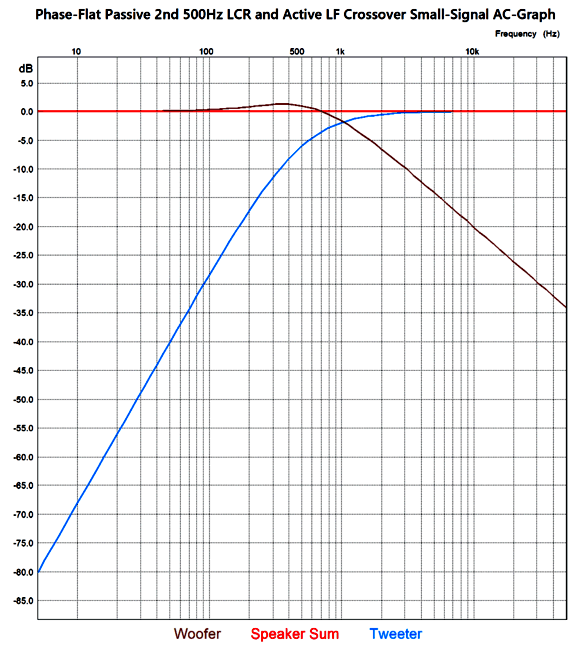 The graph begins at 5Hz and ends at 50kHz. What do the impedance and phase plotlines look like? Not as flat as I would like, but still fantastic.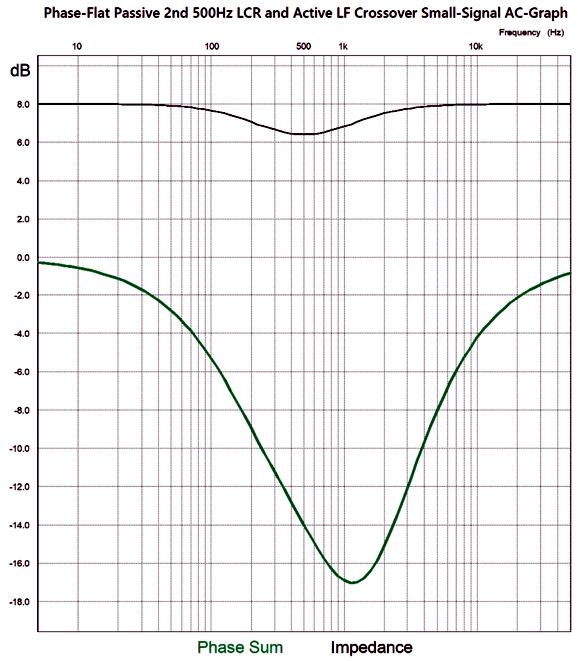 The impedance falls to 6.4 ohms at the crossover frequency and phase shifts by 17 degrees. Mind you, this is stellar phase performance for a quasi-2nd-order crossover. In addition, an entirely passive Linkwitz-Riley two-way crossover peaks at 16 ohms at the crossover frequency and produces 180 degrees of shifting phase. The big test is square-waves.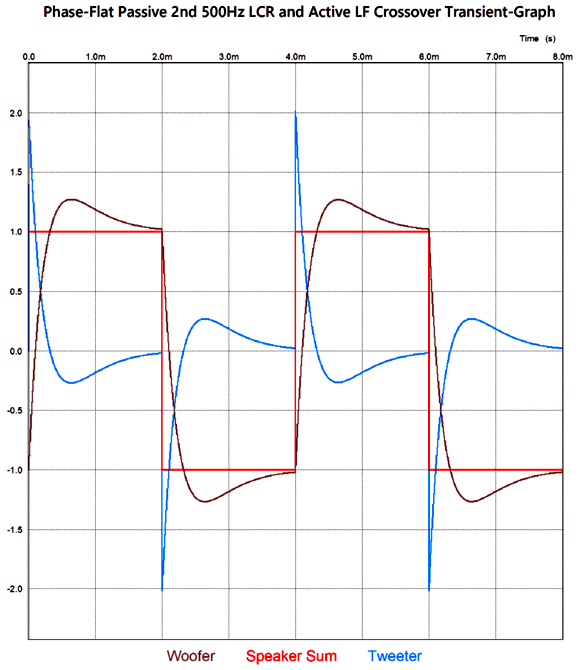 The square-wave frequency is 500Hz. We can readily see why square-wave testing blows up tweeters, as the high-frequency driver sees peaks of 2 volts when a 1-volt square-wave is applied. Double the voltage and you quadruple the wattage.
By the way, I tried this topology with a 3rd-order high-pass filter on the fullrange. It still worked, but the loudspeaker impedance fell to 4 ohms at the crossover frequency. Why bother with steeper slopes for the fullrange? Increased power handling. In order for a fullrange to exhibit good high-frequency response, its diaphragm must be light and its voicecoil cannot present too much inductance—all of which tends to limit its power handling ability. Producing deep bass requires power.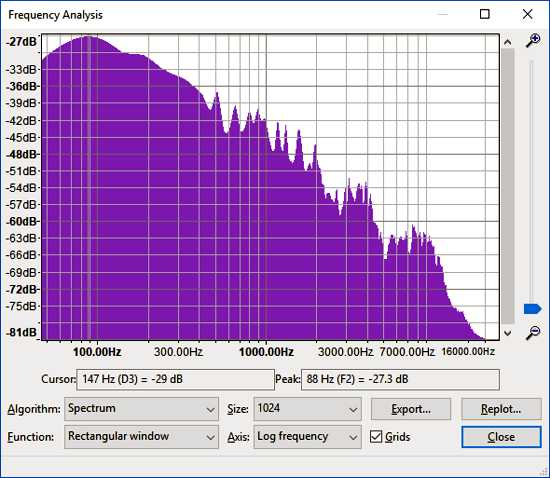 If you examine spectrographs of music recordings, you see that the bulk of power demand occurs in frequencies below 600Hz. Of course, some rare counterexamples can be found—say some synthesizer-based electronic music. Moreover, two-way loudspeakers with a horn high-frequency driver demand at least a 2nd-order high-pass filter for safety.
The big problem is finding unity-gain stable power amplifier to enclose within the loudspeaker cabinet. The OPA541 would work, but most IC power amplifiers, such as the LM3886 and TDA7293, are nowhere near unity-gain stable. The following 1st-order crossover workaround might work out well, even with an LM3886 that is NOT unity-gain stable. Here is a schematic from the LM3886 datasheet.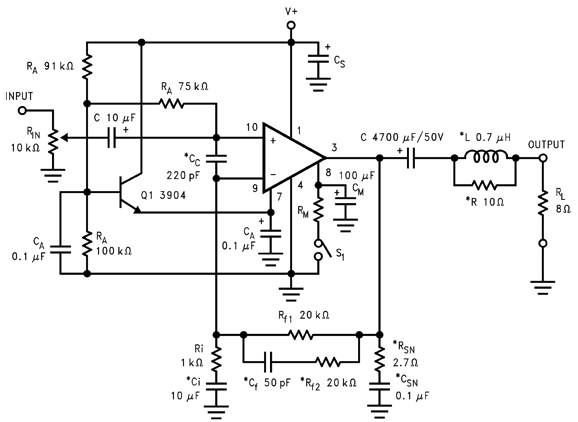 The circuit shown reveals how to use the LM3886 with a monopolar power supply, which sadly muddies the picture. Here are the essentials:
Next, I have to develop some way to retain all the essential compensations parts( 50pF, 220pF, 0.1µF capacitors, 2.7 and extra 20k negative feedback loop resistor) while still maintaining a 1st-order low-pass filter and a combined phase response. Here is my solution: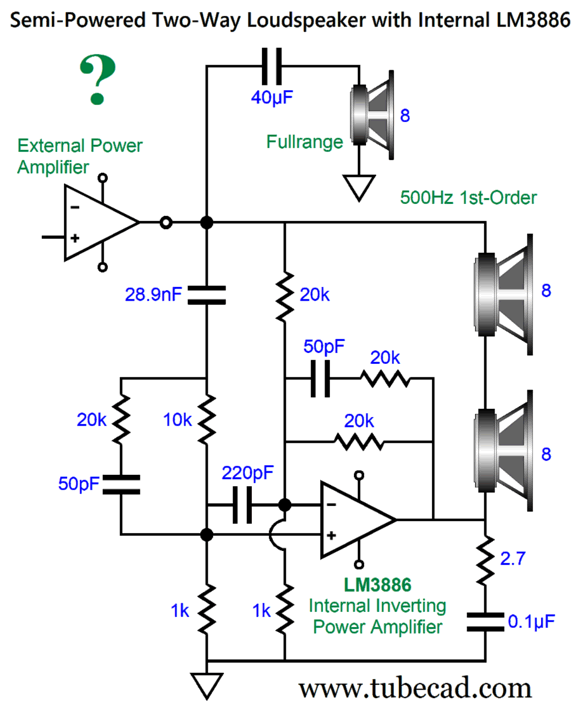 The idea here is that we are throwing away negative feedback, as the LM3886 seemingly functions as a unity-gain inverting amplifier, but internally it is amplifying by 1:11 (+20.8dB), which explains why its non-inverting input signal is attenuated by 1/11. I do not have a SPICE model for the LM3886, which explains the question mark, so I used the ideal-OpAmp model to run the SPICE simulations on the circuit shown above. Here are the resulting square-wave plotlines.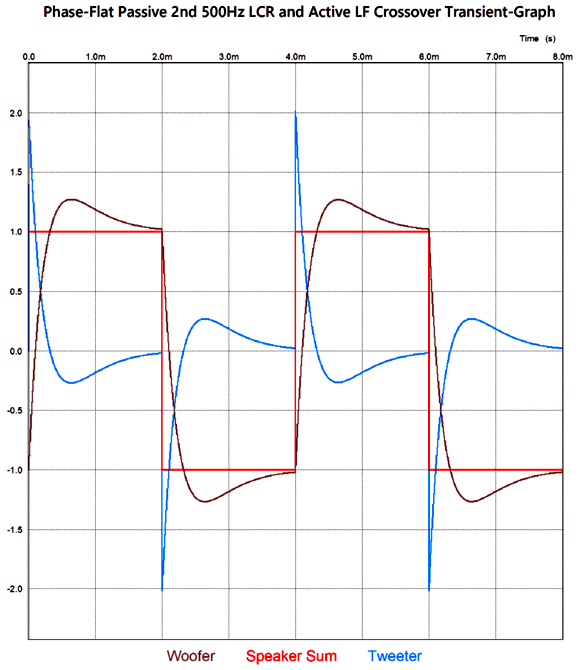 Square-waves in, square-waves out, which is only possible with phase-flat and frequency-flat output. Here is the frequency graph.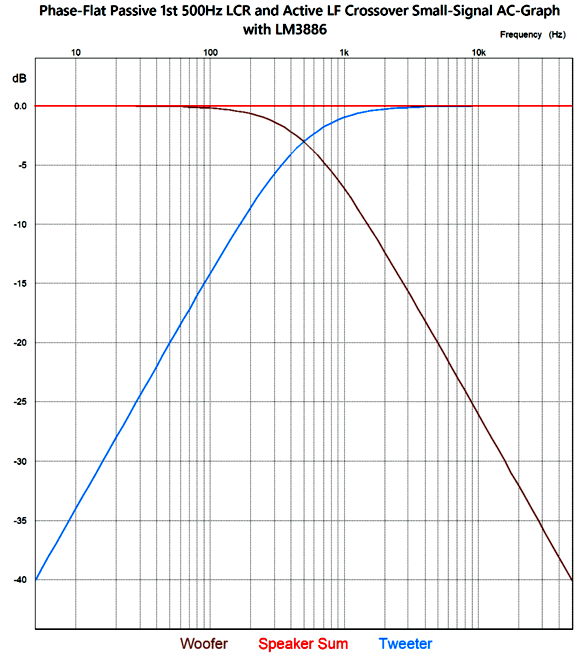 Perfect.
Unless you are an artist, writer, gambler, or someone who has just fallen in love, you cannot imagine the thrill I feel when one of my intuitive flashes pans out, i.e. when an instant and spontaneous circuit topology glints in my mind and then, after being captured, passes the test in SPICE simulations. Well, this arrangement of parts just plopped into my mind, aided—no doubt—by the requirement for symmetry. Symmetry, what symmetry? The 10k resistor equals the two 20k negative feedback loop resistors in parallel; the added 50pF capacitor and 20k resistor balance the pair in the negative-feedback loop. Okay, but what about a more conventional solid-state power amplifier design? For example, the following is a common arrangement.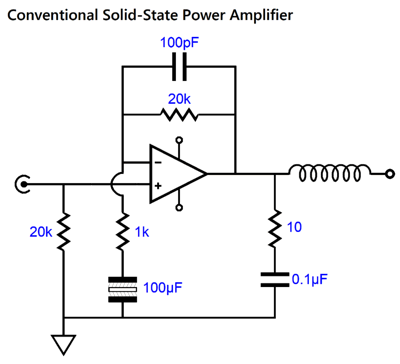 The output inductor is often shunted with a 10-ohm resistor, which dampens the inductor. This inductor isolates the output stage from high-capacitance loads. The Zobel network of the 0.1µF capacitor and 10-ohm resistor in series gives the output stage something to bite on at high frequencies. Here is my first stab at a workable design.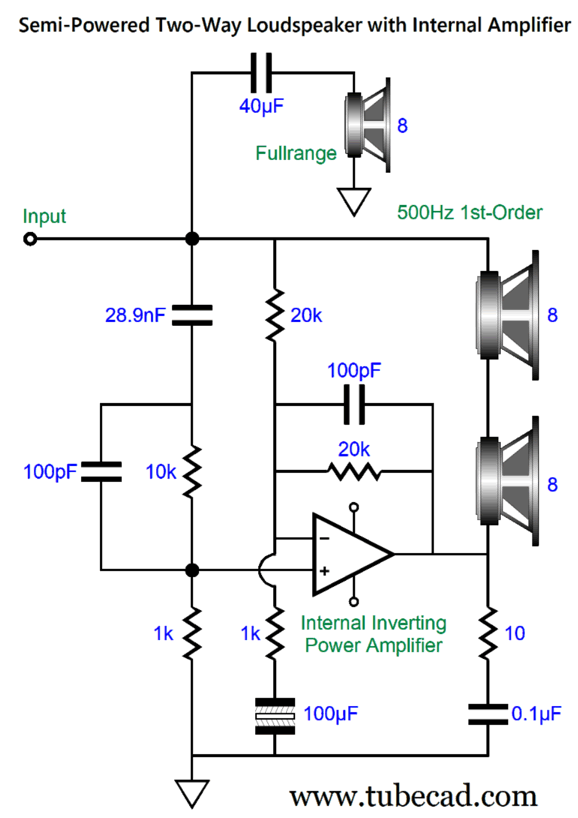 What is missing is a complementary capacitor to the 100µF non-polarized electrolytic capacitor terminating the 1k feedback resistor. (The 100µF capacitor further reduces any inherent DC offset, as it increases the available negative feedback at DC. Effectively it turns an amplifier into a unity-gain buffer at DC and ultra-low frequencies.) Transistor-based input stages draw some current from their inputs, albeit a tiny amount. Ideally, each input should see the same resistance to decrease any DC offset at the output. For example, a 20k negative feedback loop resistor should be balanced with a 20k input resistor to ground.
In the schematic above, symmetry is broken, as we see a 1k resistance to ground, not 20k. (Actually the two 20k resistors are effectively in parallel, so 10k resistance is needed.) In addition, the external power amplifier might impose its own DC offset, which the internal power amplifier must mimic, in phase. In other words, if both power amplifiers deliver the same DC offset, the two woofers will be blind to it. (The fullrange driver is blind to the DC due to its coupling capacitor.) Here is my solution: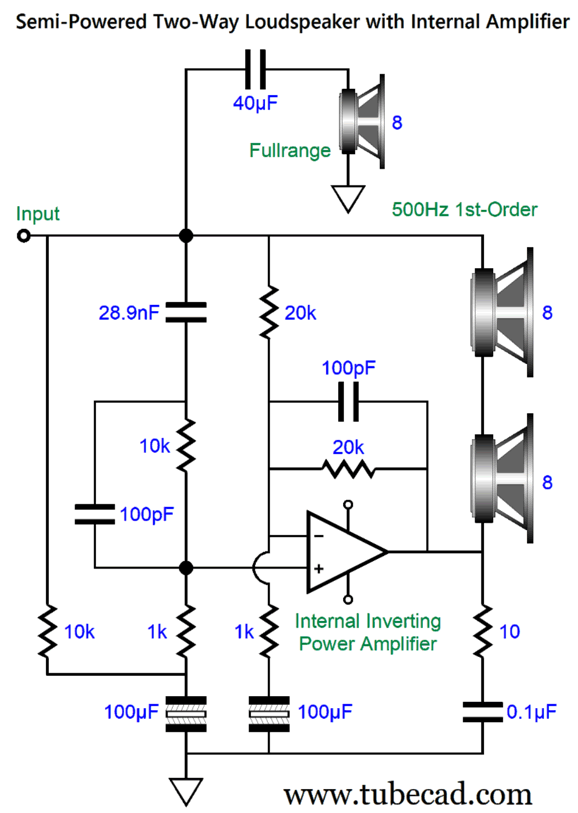 The added 100µF non-polarized electrolytic capacitor and 10k resistor relay the entire external power amplifier DC offset to the internal power amplifier's non-inverting input. The 10k resistor equals the two 20k negative feedback loop resistors in parallel. Sweet symmetry. (Actually, a 9.1k resistor would prove the better value, as it would be in series with the 1k resistor, making a total resistance of 10.1k.)
Where is the output inductor? I do not think that we need it, as the two woofers already present their own intrinsic and considerable series inductance (Le) and the wiring within the loudspeaker enclosure is short. (Long, fancy loudspeaker cables and complex passive crossovers laden power amplifiers with excessive capacitance.)
Note the internal power amplifier should match in output power the external power amplifier. With external tube-based single-ended power amplifiers, this no big deal, as little power is needed. With 200W external power amplifiers, however, we have to forget about class-AB chip amplifiers and think class-D amplifiers. The problem with class-D amplifiers is that many of the high-power amplifiers are actually bridge amplifiers, which cannot be used in my setup.
A good question to ask is this trip really necessary? Why not just use two 4-ohm woofers and an inductor? Two answers come to mind: inductors are a pain; fullrange driver tend to deliver high SPLs, which are hard to match with typical woofers. My arrangement eliminates the big inductor and adds 6dB of SPL to the woofer output.